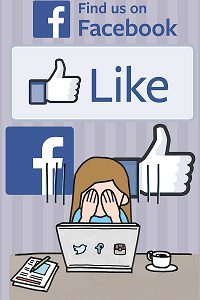 Social Media or social networking is one tool that you can use in your business marketing strategy. It will increase your access to potential clients, increase website traffic, boost your SEO, help establish credibility, and give you an opportunity to connect with your audience. Whether you're an online or brick-and-mortar, using social media can help you promote and grow your business.
Facebook is still one of the hottest social networking sites in existence. It is the #1 social media platform used by businesses and public figures. Over 100 million users are on Facebook. To increase your business visibility, you can create a Facebook Business Page at no cost.
Follow these steps to create your Facebook Business Page so your business can be found on Facebook:
Don't use your personal Facebook profile for your business. Facebook's terms require that you create a separate Page to represent your business and you could lose your personal page if you don't. Facebook Business Page offers tools to track and manage engagement which will be important for growth.
To create a Page, go to facebook.com/pages/create. Click to choose a Page category. Select a more specific category from the dropdown menu and fill out the required information. Click Get Started and follow the on-screen instructions.
Use your business name for your Page name/user name. Your URL then becomes www.facebook.com/yourbusinessname and your user name is @businessname. Be sure to read Facebook's naming guidelines.
Choose the right template for your type of business. Page templates have default tabs and buttons designed for different kinds of Pages (restaurants, shopping, services, etc). You can change your Page template at any time.
Use your logo as your profile picture. Doing so helps maximize recognition. This is what people will see when you show up in searches or when you post on other's pages.
Choose a Cover Photo. This is the large space at the top of the Page. Use this space to convey your branding message or showcase a product or service. This photo can be changed periodically.
Complete the About Page and use keywords that describe your business or services. This will help you show up in Google and Facebook searches. Include your website URL so visitors can click through. Remember that your Facebook Business Page is an extension of your brand.
Pin a welcome message. Facebook allows you to pin onepost to the top of their page. This will be the first posting visitors see on your Facebook Business Page. Ensure that this post is interesting, unique and contains an eye-catching image. The purpose of this post is to get them to "Like" or "Follow" your Page. When they do this, more of your posts will show in their newsfeed which is a good thing and what you want. This pinned message can be changed periodically.
Add a Call To Action (CTA) button. Ask your viewer to engage with you in some way. It's important to provide a way for a prospective client to reach you or learn more about you and your business. You can add a Contact button and add your phone number, address, or email address. You can add a Shop button to allow viewers to purchase your products. You can add a Book Services button which allows viewers to scheduled appointments. Just click Add a Button under the cover photo to see all the options.
Begin posting. Here are some ideas of things to post on your Facebook Business Page to get you started:

Links back to your blog with a short commentary about it.
Memes, quote images, videos – because these do very well virally on Facebook.
Questions to ask of your viewers to generate a conversation. Engagement is important.
Facts about your niche – short quick facts and tips.
The opt-in form link to your email list subscription to build your email list.
Link to an interesting article your audience may be interested in.
Information on your new service and/or product.
Link to your business sales page on your website.
Ask your audience for feedback.
Facebook's algorithm is designed to show the most relevant content to users which is determined by things such as how a person has interacted with a page's posts in the past (likes, comments, shares), the type of posts being shared (image, video, link, etc.), and the popularity of a page's past posts among all users. In other words, the more popular your posts are, the more often they'll be shown in users' feeds.
To ensure your posts get shown, be sure to include videos as a part of your strategy. Videos are in the lead for organic reach. Facebook has decreased the reach for posts that it determines to be too promotional. So be sure to make your promotions interesting to your visitors. Try to strike a good balance with your posts between informational, entertaining, and promotional.
Facebook is just one piece to your business social media marketing strategy. By increasing customer involvement through social media, you pave the way to increased sales. To learn more or receive help with your Page, feel free to contact me or check out these additional resources to learn more on your own:
This post contains some affiliate links and I will be compensated if you make a purchase after clicking on those links.