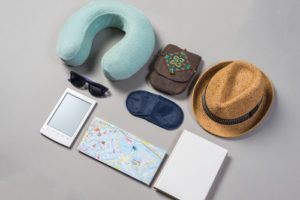 Family summer vacation travel season is upon us. It is a great way to create memories with our loved ones. However, traveling can sometimes be complex and stressful. Here are some simple ways you can take the pain out of your next trip.
Note – most airports are busiest from 9am to 11am and from 4pm to 7pm; reconfirm international flights 24 to 48 hours before departure.
Travel Resources
Find a great sizzling summer vacation travel read:
Whether you're headed to the beach, taking an urban adventure, or headed overseas, these suppliers have the perfect travel companion for wherever you roam. Book your next reading adventure now!
Take summer vacation travel pictures to preserve memories
Then edit them with PicMonkey to create even more fun and creative images. Include some anecdotes and fun captions. Create a personalized photobook for each member of the trip.
You can also use a free photo printing app, Printicular which works with Walgreens, dm drogerie, Kodak Alaris and other retailers. Send pictures straight from your mobile device, social media, or cloud storage. You can even order home delivery.
This post contains some affiliate links and I will be compensated if you make a purchase after clicking on those links.